With Personalized Motocross Coaching With Champion MX Racer Scoob, Winning Your Next Race Doesn't Have To Be Hard...
How to instantly add more speed, better control, flow and confidence to your riding to Win Your Next Race… Even if you're over 30 or a complete beginner
Join Your 2 Day Training School  And Get The Four Bonuses Below. Use Button Below To Join Now
Can't Make The 2 Day School...No Worries. Use The Button Below And Get The Great Bonuses
Here's why you're going to love working with Scoob!
Over 34 years experience as a Motocross Racer so he knows the ins-and-outs of motocross racing.
Championship racer with numerous titles to his name which gives him insider insight into what it takes to WIN races.
Owner of a motocross racing track in Pennsylvania...he knows all the tricks of the track that will trip you up during your race AND how to overcome them!
Has helped hundreds of students enter and WIN motocross races and championships...will you be his next success story?
Students LOVE Working With Scoob. Here's What A Few Have Said:
"Ever since I started training with Scoob, I have improved my riding skills. Scoob has taught me how to ride safer and faster. I am at least 25 seconds faster on my practice lap, which is an awesome improvement. I have been training with Scoob for about two years now, and I will continue to train with him as long as I am able to ride. Thanks Scoob, I can't wait for our next lesson so I can get even FASTER!!"

Louie Moore
"I have trained with Scoob for most all my life. He is a great and well-rounded trainer! When I was a young kid he taught me so much about proper riding techniques; techniques that I use to this day. I would not be at the level I am today without his help. "

Donny Melineck
"My last year working with Scoob at Dirt Soilders Mx has been the best part of my young racing career. Scoob has all the tools you need to become a more confident and more powerful rider on and off the track.

The biggest thing that has helped me is my confidence in myself, in other words Scoob lit that fire under me and it has me with an attitude that always pushes myself harder and harder each time im at the gym, and on the track.

Me and Scoob are a team and he is open to suggestions and always willing to put his own time into helping me and im very thankful he is by my side for our Championship push!"

Andrew Dilley
5 Reasons You Need A Coach To Help You Win Your Next Race...
Improved Race Time

Is your lap time not improving no matter what you try? If you keep training how your training, your race time can't get better! That's why you need a coach…to show you what you're doing wrong and how to fix it. Then every time you practice, your lap time gets better and better!
Race Day Confidence

Roll up to the starting gate with the confidence you need to WIN! A MX coach will help give you the tools and skills you need to not only physically prepare for race day, but mentally prepare for your big win too!
Accountability To WIN!

Sure, you WANT to win your next race, but are you prepared to put in the daily training it takes to win? If you try to motivate yourself, when it comes time to lift that extra set of weights or run through that corner you keep sliding out of one more time…will you do it? Probably not. But with a coach, you will have the accountability you desperately need to stay committed to WINNING!
Insider Secrets

By working with a championship racer, you will have the insider secrets of what it takes to be a champion racer. You don't need to guess how to win your next race, your coach will give you a step-by-step game plan to help you achieve your goal!
Race Day Game Plan

When you work with Scoob, you will receive a personalized Race Day Game Plan to help you WIN your next race. He will help you create a fitness plan, nutrition plan, practice schedule and race day prep checklist so you can confidently prepare for race day.
Here's what is included when you work with Scoob!
Scoob is taking on a group of 10 motivated motocross racers who are dedicated to WINNING their next race. The motocross coaching program is a 4 month training course that culminates with a 2-day motocross retreat at Scoob's track in Pennsylvania.
If you're serious about WINNING and becoming a championship racer, this is your best next step!
Whether you work with Scoob 1-on-1 or in a group coaching program, this comprehensive training will give you the tools, training and resources you need to WIN your next race! Here's what's included when you sign up today...
Bi-Weekly Online Training Tutorials

Train for race day with 7 step-by-step video tutorial trainings that teach you the ins-and-outs of race day prep. Inside these tutorials you will find easy-to-follow instructions on how to workout, eat right, practice on the track and mentally prepare for the big day.
Monthly Group Coaching Call + Q&A

Learn from a championship racer each month insider secrets to winning your next race. During these 1 hour coaching calls, Scoob will reveal what it REALLY takes to take home first place. Plus, you can ask any questions you have about your race day training and Scoob will personally answer each and every one of your questions LIVE during the call.
Private Facebook Group

Connect with other die-hard motocross racers who are prepping to win their next race inside of our private Facebook group. Get ready to get motivated to kick ass during your race as 10 of your closest racing buddies are cheering you on during your big race day…and helping you prep months before you ever ride up to the starting gate.
You Want To Win...Get The Support You Need To Cross The Finish Line FIRST!
Can't Make The 2 Day School...No Worries. Use The Button Below And Get The Great Bonuses
Grab these exclusive BONUSES when you take action today!
Instant Access To The 'Motocross Training Academy'

Start training for RACE DAY now with the Motocross Training Academy online program. This virtual training course will give you the racing foundation that will set you up for massive success during the 3 months of the coaching program.

As my gift to you, once you join the coaching program I will send you the Motocross Training Academy absolutely free.

(Valued At $497)
Personalized Riding Critique

Stuck on a certain corner or can't land a jump just right? During the 3 month coaching program, Scoob will give you a personalized critique of your riding to troubleshoot any riding challenges you are facing. You will record your next run at the track and send it to Scoob. Then you will receive a step-by-step critique of how to improve your riding next time you're on the track. This alone is worth the investment in the course!

(Valued At $588)
Location: Dirt Soldiers Mx Park / Free Camping Available/ Motels close: 105 Bender Farm lane Loretto Pa 15940
Who: Open to racers & Rider with 65cc and larger motorcycles skill levels beginner to Intermediate.
Limit: 10 riders per camp.
Cost:+Bonuses $1570   $475 Per Rider
contact: scoob @ mxscoob@gmail.com   814-330-2058
100% Risk FREE - you have nothing to lose!
Scoob ,

Dirt Soldiers Motocross

Im 100% confident that you are going to be completely satisfied with the coaching program. If  for any reason you're not happy, let me know within the first 30 days of the training and I will refund your money.
The Simple System To Help You Add More Speed, Better Control, Flow And Confidence To Your Riding....Even If You're Over 30 Or A Complete Beginner
Get started today - here is what you get:
2 Days Of On-Track Training In Pennsylvania - Only 10 Spots Available...Claim Yours Now!

Show us what you've got! Join Scoob and your fellow MX racers during a 2-day Motocross Retreat at Scoob's track in Pennsylvania. During your 2 days together, you will run 3 mock races to prep for your race day. Plus, Scoob will work with you 1-on-1 to create your personalized Race Day Game Plan. At the end of your training, CELEBRATE with a graduation dinner! (Valued At Priceless Tons Of Fun Learning & Value)
Monthly Group Coaching Call + Q&A ($388 Value)
Private Facebook Group ($97 Value)
PLUS - these amazing bonuses:
Instant Access To The Motocross Training Academy ($497 Value)
Personalized Riding Critique ($588 Value)
2-Days Of On-Track Training In Pennsylvania (first 10 only!) ($ Priceless..Tons of fun, learning & Value)
Scoob takes the technical aspects of motocross and delivers them to you in simple straight forward rider speak, no Bull, just simple easy to follow and instructions.

Mike
I like the fitness and mental stuff. That book you gave me a while back has helped out alot. I credit what I have been able to adapt from your tips and chats to helping me take home second in class for Vet B in the 2013 Get-Xtr-Eme (GXE) series.

John
2 Days Of On-Track Training In Pennsylvania - Only 10 Spots Available...Claim Yours Now!
Which Easy Payment Plan Would You Prefer?
Can't Make The 2 Day School...No Worries. Use The Button Below And Get The Great Bonuses
Beginning immediately, you will receive new video lessons each week for the entire 4-month program. Leading up to the 2-day school. You are able to proceed at your own pace and you can access your training anytime for life!
Motocross Training Academy comes with a 30-day 100% satisfaction guarantee.
If you have questions or issues registering?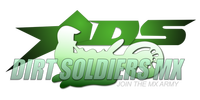 Dirt Soldiers Mx Training
105 Bender Farm Lane
Loretto, PA 15940
Phone: 814-330-2058
Email: service@motocrosstrainingacademy.com
Let Us Help You Become The Best Rider On The Track