Ever wonder how it is that others seem to just ride motocross with control, confidence, & swagger? Two Full Days Of 1-on-1 Training With Me At My Private Training Track In Pennsylvania and you'll learn how to use and apply the same techniques that top PRO'S are using right now, to ride motocross and make it look easy!
A 100% complete Coaching package that empowers ANYONE to ride motocross and take your skills to a new level in a few days.
The Secret Riding Techniques To Transform The Way You Ride, Build Massive Confidence, Become One With The Bike, Get The Flow & Ride Like A Pro!
Have you ever felt this way while Racing & Riding Motocross?....
Are the corners slowing you down when they actually should be the place where you make the most time?
Are you getting tired during your race or while practicing and making costly mistakes?
Is the jumps scaring the crap out of you?
Are the ruts driving you crazy that you just don't have the confidence to flow into them and out?
Are you getting more injuries than you would like to deal with?
How about your holeshots..Are they no where near the front?
Do you feel sketchy on the bike and not always in control?
Do you look at the fast guys at your local track and think..I want to do that!?
Do you sometimes feel like a total noob and everbody is going to see it?
Are you looking to improve your motocross riding/racing and start getting trophies and to the front of the pack?
 Just like a house, if the foundation is not built first or is poorly built everything else will crumble and you will never ride to your full potential. Everything in motocross, whoops, jumps, ruts, everything starts with building this foundation and is most important when it comes to riding & racing motocross.
Hi Scoob, I'm a noob MX rider nearly 40 years young. After watching the foundation video's I can already bug the faster guys. Never imagined that I could improve that fast and far. I'm grateful for that, I love the MTA course. Thanks from a dusty Curacao Michel.

Michel
You've definitely seen those pro Mxer's pulling some spectacular moves like railing corners, nailing the jumps, while doing it with mindblowing speed, & winning the race with swagger/fashion that melts your heart...
And you ask yourself, how did he do that or can I ever be that good?
You are so impressed with the speed, control, flow and swagger, you wonder if you can ever be as good as the pro riders without breaking an arm or leg as a sacrifice.
I totally understand.
 I Can Help You Become The Rider You've Always Dreamed Of Being! .....
Build The Foundation For Motocross Racing Success
The Secret Techniques Top Pro Racers & Your Local Track Guys Are Using To Go Fast
Get what they call "the flow" (You and the bike become one)
Get more speed
Make less mistakes
Hit And Land Jumps With Confidence
Rail Corners
Accelerate Like A Pro (Smooth) And Get Lot's Of Traction
Pass Your Way To The Front
Smoke Your Buddies And Earn Your Bragging Rights!
Become a safer rider….. Less chance of injury
No more getting tired during the race or practice
Get The Holeshot
Hit The Ruts With Confidence & Rutted Corners
Learn To Brake For Better Control
Learn How to Eliminate Coasting….. Your Either Braking Or Accelerating
Skim The Whoops
Build Tons Of Swagger!
It's Simple...You Can No Longer Afford To Rely On Hope Riding Anymore. Hope You Ride, Corner, & Jump Great Next Time Your At The Track!
Imagine The Next Time Your On A Motocross Track You Could Ride Like This....
Hit Jumps With Confidence

Jumping not only looks cool (and is hella fun!) but hitting your jumps helps you race faster. Unfortunately, when your out of Center Of Balance & and poor use of the 5 controls you can't control the 250 lb bike under you. So what happens? You fishtail or wipe out at the bottom of a jump. Ouch! Learn how to properly prepare for a jump so you can start lapping even the most experienced riders on the track.

Master Your Corners

The key to winning a MX race is hitting your corners. But when your 'Center Of Balance & 5 Controls' is weak, you either come up too slow on a corner or exit to slow…both of these mistakes will KILL your chances of winning. In this training, I show you how to use your COB & 5 Controls to control your bike around any kind of corner you might come across on any track in the world.

Improve Your Lap Times

Let's get you ready to RACE! The techniques you'll learn inside this training will help you break old riding habits that have kept you from shaving time off your laps. In just a few rides, you'll create new habits that help you race faster every time you get on your bike. Learn to flow like a pro rider in no time!

Race Day Confidence

Roll up to the starting gate with the confidence you need to WIN! A MX coach will help give you the tools and skills you need to not only physically prepare for race day, but mentally prepare for your big win too!

Build Mental Strength Even As A Beginner

Think about your favorite motocross rider for a second…

You admire them because they just OWN their riding. They look good riding and you know they are having FUN every time they hop on their bike. They have Ultimate MX Swagger!

Want to feel that same swagger every time you ride? Inside this training, I'll show you:

How to master the MENTAL GAME of motocross;

Easy-to-use techniques to improve your riding confidence FAST!
You'll have this training at your fingertips. All of which were created from years of racing experience!
We've Jam Packed Everything Into This Simple System, So You Can Succeed With Ease...
If you want to improve as a rider and step it up to the next level, then there are techniques that you need to master to make it happen. With the Dirt Soldiers MX Program, you'll learn how to be more in control, ride faster, ride harder, and become a well-trained athlete.
Module 1 - Getting Started: Center Of Balance

This Training program teaches you the basic moves and is the starting point to riding great. I will teach you exactly how to find center of balance, the seated and standing, and when you do the two different methods. This will lay the groundwork for all your riding techniques and lead to your habits good or bad… were shooting for good!

Module 2 - Master The 5 Controls:

Now that the basics are under your belt, it's time to start learning the 5 controls: Clutch, Front Brake, Rear Brake, Throttle, & Shifter. This is how you control your motocross bike…tell it what to do. When blended with Center of Balance gives you ultimate control. Here is a quick tip. You always have to be giving the bike some command through the controls. If you don't and are in what we call the dreaded coasting, the bike will do what it wants and that's usually put you down on the ground!

Module 3 - Putting It All Together

Combining the Center Of Balance & 5 Controls To Master: Hitting your corners faster so you can significantly lower your lap time. Master jumps to have more FUN riding again. Avoid the serious injuries that can destroy your body. Avoid mid-race exhaustion so you can practice longer and stronger And much, much more!

Module 4 - Fitness/ Mental Training For MX Riders

The biggest mistake most beginner riders make is getting on a bike without first training your 'riding core'. Without a strong core you won't be able to fully control the 250 pound bike between your legs so you'll keep sliding through your corners, fishtailing during jumps and you'll end up exhausted after just a few laps. Inside this training, you'll learn fitness tips to improve your 'riding core'.
A look Inside the Motocross Training Academy Membership Coaching Program
Sign up to get started!
The DSMX Community Loves Our Training System Because They See Results Fast...
Thanks Scoob! Had my best season ever since following your advice looking forward toward even better seasons to come, your programs rock! Justin A. Nanticoke, PA

Justin
Scoob, Love the stop action and detailed explanation ! Marvin

Marvin
I like the fitness and mental stuff. That book you gave me a while back has helped out alot. I credit what I have been able to adapt from your tips and chats to helping me take home second in class for Vet B in the 2013 Get-Xtr-Eme (GXE) series.

John
Great idea using the slow motion video of the racers to actually see what we are meant to be doing. Sometimes hard to picture the technique. Awesome.
Scoob, Your tips and videos have been an excellent help in improving my riding keep up the good work thanks again, Matt from Wales

Matt
Lots of helpful info at my fingertips! Great job Scoob! Looking forward to applying what I learn from your website!

Joe
Scoob Helping Riders Get Faster
Here's why you're going to love working with Scoob!
Over 34 years experience as a Motocross Racer so he knows the ins-and-outs of motocross racing.
Championship racer with numerous titles to his name which gives him insider insight into what it takes to WIN races.
Owner of a motocross racing track in Pennsylvania...he knows all the tricks of the track that will trip you up during your race AND how to overcome them!
Has helped hundreds of students enter and WIN motocross races and championships...will you be his next success story?
We've Jam Packed In These Special Bonuses
To Make This Even Easier...
Bonus 1 - Review Your Video/ Personalized Riding Critique

Stuck on a certain corner or can't land a jump just right? During the 5  month coaching program, Scoob will give you a personalized critique of your riding to troubleshoot any riding challenges you are facing. You will record your next run at the track and send it to Scoob. Then you will receive a step-by-step critique of how to improve your riding next time you're on the track. This alone is worth the investment in the course!

Bonus 2 - Private Facebook Group

Connect with other die-hard motocross racers who are prepping to win their next race inside of our private Facebook group. Get ready to get motivated to kick ass during your race as 10 of your closest racing buddies are cheering you on during your big race day…and helping you prep months before you ever ride up to the starting gate.

Bonus 3 - Monthly 30 Minute 1-on-1 Call

Got a question about your upcoming race or a problem your struggling with that you need help with ASAP? Hop on a 1-on-1 call with Scoob to ask your question or get coaching on how to prepare for your race.

Bonus 4 - Monthly Group Coaching Call + Q&A

Learn from a championship racer each month insider secrets to winning your next race. During these 1 hour coaching calls, Scoob will reveal what it REALLY takes to take home first place. Plus, you can ask any questions you have about your race day training and Scoob will personally answer each and every one of your questions LIVE during the call.

Bonus 5 - Email Support

Shoot me an email at anytime with any question you have about your motocross racing and riding and I will get back right away with help!

2 Full Days Of 1-on-1 Training With Me At My Private Training Track In Pennsylvania.

I will be in contact and we will set up a date that works for you!
I will personally train you & 

I guarantee that you will become a faster, more confident rider if you follow the Dirt Soldiers MX training routine.
Full 100% Money Back Guarantee...
Scoob,

Dirt Soldiers Mx Training Academy

Im 100% confident that you are going to be completely satisfied with the coaching program. If  for any reason you're not happy, let me know within the first 30 days of the training and I will refund your money.
Dirt Soldiers Mx Training Academy Foundation Training - The Simple System To
Master Motocross Racing...
Donny

"I have trained with Scoob for most all my life. He is a great and well-rounded trainer! When I was a young kid he taught me so much about proper riding techniques; techniques that I use to this day. I would not be at the level I am today without his help. " – Donny Melineck
Get started today - here is what you get:
4 Modules Of Video Tutorials/Downloads/PDF'S ($497 Value)
Correct Center Of Balance, Master The 5 Controls, Race With Control, Confidence & Flow
How To Corner, Jump, Ride Ruts, Get Holeshot, Go Faster, Be More Safe, Fitness Training, Mental Training
5- Personalized Riding Critiques/Coaching on Your Video ($291 Value)
Private Facebook Group ($97 Value)
Monthly 30 Minute 1 on 1 Call ($591 Value)
Monthly Group Coaching Session ($388 Value)
Email Support ($147 Value)
2 Full Days Of 1 on 1 Training With Me At My Private Training Track In Pennsylvania.
Get Started Today not For $2021 Just
$697
Payment Plan Also Availbile
You are protected by our 100% money back guarantee
n
Are You Ready to Learn how to be a Professional Motocross Racer?


It's time you join the elite riders by taking a personal coaching course

designed just for you!


If you want to improve as a rider and step it up to the next level, then there are techniques that you need to master to make it happen. With the Dirt Soldiers MX Coaching Lifetime Membership Program, you'll learn how to be more in control, ride faster, ride harder, and become a well-trained athlete.




Get Started Today For Just

$697
Payment Plan Also Availbile
Beginning immediately, you will receive new video lessons each week for the entire program. You are able to proceed at your own pace and you can access your training anytime for life!
Motocross Training Academy comes with a 30-day 100% satisfaction guarantee.
If you have questions or issues registering?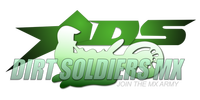 Mx Training Academy
105 Bender Farm Lane
Loretto, PA 15940
Phone: 814-330-2058
Email: service@motocrosstrainingacademy.com
Let Us Help You Become The Best Rider On The Track